Holiday rental accommodation within easy reach of Florence city centre.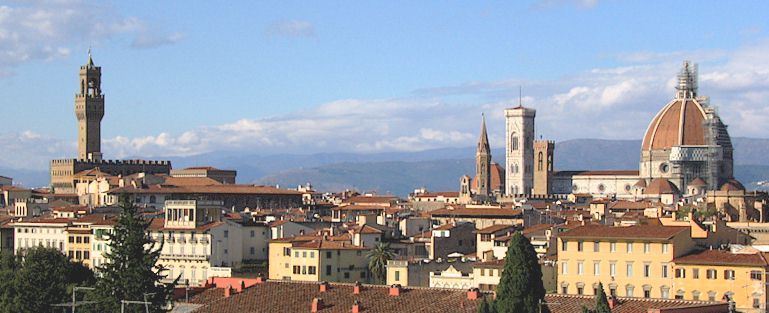 While the prices of hotels in Florence have increased over the past three years for visitors who pay in dollars, the number of agriturismi, country Bed & Breakfast rooms and other rural vacation accommodations has increased and the prices have consequently gone down. One should therefore seriously consider staying outside Florence during a vacation in Italy, not only to economise but also to enjoy cooler temperatures, a garden and very often a pool.

Since Renaissance times, the inhabitants of Florence have sought tranquility and cool breezes during summer by staying in villas and on farms in the surrounding Tuscan hills. This is still an excellent strategy, not just for Florentines but also for summer visitors to this beautiful city. You can find a fully-equipped self-catering vacation apartment within 20 minutes drive of Florence for less money than a modest hotel within Florence would cost. In addition, a swimming pool is often included. Enjoy country life while still being able to make daily excursions to visit the art treasures of Florence.

If you prefer not to take a car into Florence, there are numerous bus and train routes that transport you to the city centre. Cars usually cannot enter the inner city without a permit.


The main festivals of Florence
Scoppio del Carro
-
Good Friday and Easter Monday
- a spectacular celebration. The cart (carro) starts from via Il Prato at 9 am. At 10 am the procession of clergy starts from the Church of SS. Apostoli. The explosion of the Cart occurs at 11 am.
Calcio Storico
-
24 June plus two other days
- primitve costumed football game virtually without rules.
Festa della Rificolona
(Festival of the Lanterns), 7 and 8 September
- one of Florence's oldest festivals. Market and children with their lanterns.
Villa Gamberaia classic Tuscan villa (outskirts of Florence)
Villa Gamberaia, located near Settignano on the outskirts of Florence, is one of the most famous villas in Tuscany, subject of numerous books and documentaries on the villas and gardens of Tuscany. The gardens of Villa Gamberaia may be visited by members of the public fora small fee. Villa Gamberaia can be reached by ATAF bus from Florence. More about Villa Gamberaia.
Our top recommendation for those who want to see
not only the main sights but also the off the beaten track
places to go for a drink, artisans, boutique hotels and much else!